Sacha is a remarkable young woman.
She is currently at University, studying a double degree in Media and Computer Science with a major in Japanese.
Sacha is also legally blind.
Like her Mum, Alison, Sacha has Familial Exudative Vitreoretinopathy (FEVR). FEVR is a common condition; however, most people do not realise they have it. In rare cases, such as with Sacha and Alison, it comes with manifestations that cause vision loss.
Sacha has worked with Orientation and Mobility specialists at Guide Dogs since she was just three, learning how to move around safely and independently.
"Guide Dogs has been part of my life as long as I can remember," says Sacha. "Even when I was little, I wanted to do things on my own. I learnt to use a white cane when I just was four."
It's estimated that one out of every 2,500 children born in Australia will be diagnosed with severe vision loss.
Use of a white cane is often one of the first skills our clients learn, and for children, a white cane may be the key to their first experiences of independence and freedom. As you can imagine, the earlier  these  skills are introduced, the more confidently people like Sacha can learn to navigate their world.
"I realised I was different to most other children very early on, around the time I was learning to read and write. I needed to learn to read both print and Braille at the same time. It felt like it took me much longer to write and spell than everyone else because I couldn't see as much."
Sacha's white cane opened up many new possibilities, and Sacha continued to receive specialist support from Guide Dogs over the years, including how to get around using public transport.
The skills Sacha learnt have all been preparing her for the ultimate goal to open up many more opportunities – a Guide Dog. Each Guide Dog we match is carefully selected to ensure it complements our clients characteristics and specific needs, creating a unique and meaningful partnership.
"Growing up, Mum has always had a Guide Dog, so I always kind of knew I'd be matched with a dog of my own one day," says Sacha.
Thanks to the kindness of people like you, we are thrilled to share that Sacha was recently matched with Guide Dog Jesse.
Sacha spent several weeks working closely with Guide Dogs Mobility Instructor, Patrick.
"From their first trial walk, it was clear Sacha and Jesse were a team," says Patrick.
"Sacha is smart, ambitious and a very brisk walker. Jesse is the perfect dog for her!"
Sacha agrees: "Jessie is speedy, focussed and very cheeky," says Sacha. "I describe her as a tiny pocket rocket! She's a great match for me – we're both very fast walkers."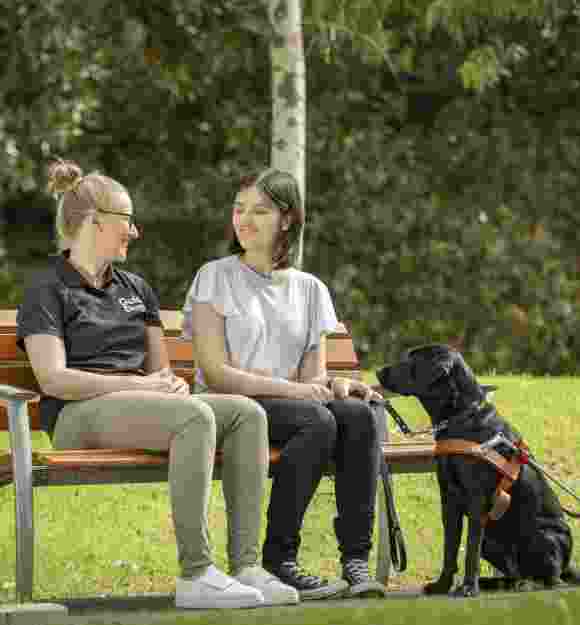 And thanks to the support of people like you, Sacha is now able to look forward to the future with Jesse by her side with confidence.
"It's wonderful being able to travel freely around the city, knowing I can trust Jesse. I can even walk through Rundle Mall, which is something I'd never have contemplated before. Now I can agree to meet friends wherever they suggest – not just somewhere I know well. That's huge!
Having a Guide Dog has given me the confidence to take on life's challenges and spend more time out and about doing what I want to do."
Will you give a gift today to help more young people like Sacha?
At a cost of over $50,000 to raise and train a Guide Dog, you can understand how reliant we are on the continued generosity of supporters like you.
Can you imagine the joy Sacha would have felt when she welcomed home Jesse? Please send your gift today to help train more Guide Dogs for people on the waitlist like Sacha.
Your support really does change lives.