About the role
Guide Dog Mobility Instructor.
We have a unique opportunity for a qualified Guide Dog Mobility Instructor working within our growing team of specialists. Essential requirements include a Guide Dog Mobility Instructor qualification from an International Guide Dog Federation accredited organisation.
As a Guide Dog Mobility Instructor, you will be responsible for assessing and delivering high-quality guide dog mobility services to clients with low vision. The role may also provide services through our other assistance dog programs.
Ideally, you will be self-motivated and committed to building positive working relationships with your colleagues, clients and the community. This role will best suit someone who enjoys the variety and end-to-end service provision a small school has to offer.
The role will also include travelling around South Australia while providing services to our clients. Collaboration with other Guide Dogs schools may provide opportunities for travel in other areas of Australia.
A competitive remuneration package is available commensurate with skills and experience, which includes tax-free salary packaging.
Requirements of the role
What you will need.
 Guide Dog Mobility Instructor qualification from an accredited International Guide Dog Federation organisation, and a current driver's licence;
Ability to assess and train accepted dogs to a standard of readiness for allocation to clients with low vision;
Solid understanding of the principles of dog learning, and a commitment to positive reinforcement;
Ability to review dogs for their temperamental and physical suitability and ensure the application of appropriate solutions;
A strong client and customer focus and a commitment to person-centred service practices;
Ability to work with the Client Services Team to ensure follow up and aftercare visits are carried out in a timely manner including maintaining accurate records for clients;
Ability to collaborate with other highly skilled staff across our dog facilities, puppy development and Guide Dog Mobility Instructor teams to ensure the success of our Guide Dogs, Autism Assistance Dogs and other Assistance Dogs.
A commitment to live the Values and Behaviours of Guide Dogs South Australia & Northern Territory.
For a complete description of the role's key responsibilities and requirements, please review the Position Description.
Learn more or apply
International applicants welcome.
We welcome applications for this position from people who may require sponsorship to work in Australia and would look to provide relocation assistance to the right international candidate.
If you meet the requirements of the role and would like to learn more, please contact Julie Bryksy, Human Resources Manager, on +08 8203 8333 for a confidential discussion.
Click here for a copy of the Position Description
Email your application to: job.applications@guidedogs.org.au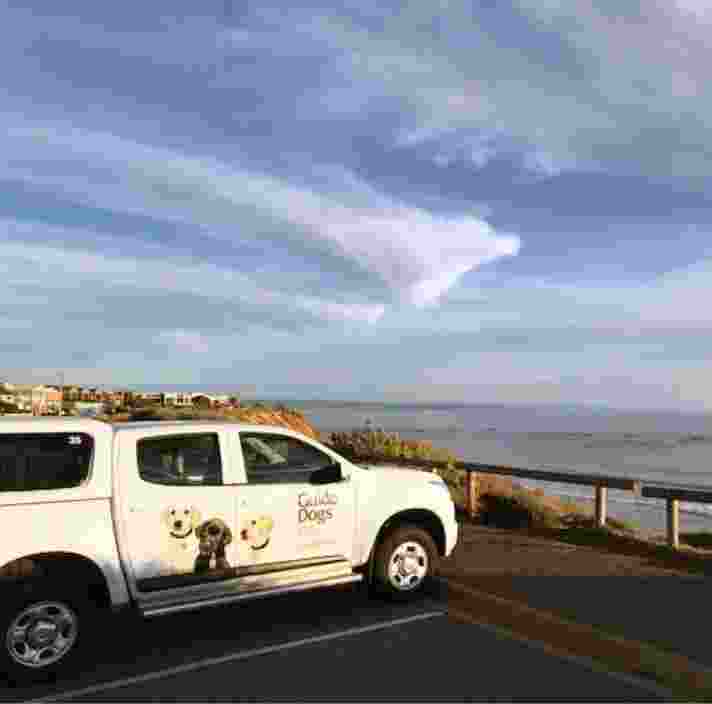 Working at Guide Dogs SA/NT
INTERNATIONAL APPLICANTS WELCOME.
Why you will love Guide Dogs
Our team says:
I joined Guide Dogs SA/NT because of their commitment to positive training methods, program diversity and building strong working relationships. These values enable a more individualised service, not just for the dogs we train but to ensure the perfect match for each client. The team is wonderful and I've made many lifelong friends.
— Susan, Guide Dog Mobility Instructor (UK)
Guide Dogs SA/NT made the transition as simple as possible and I felt fully supported the whole way through. I especially love working in a small school because I can build amazing relationships with our clients and dogs. It's so rewarding to see the results of my work end-to-end.
— Lisa, Guide Dog Mobility Instructor (USA)
About Guide Dogs
Who we are and what we do.
We put our clients and their families at the heart of everything we do.
Every day, we empower our people to find the solutions that will make the biggest differences to achieve independence, participation, inclusion and wellbeing.
We know that no two journeys are the same. So we work side-by-side with clients and their families to make their way through the road ahead, with services tailored to suit them.
Our support extends far beyond the Adelaide region to include remote and regional areas of South Australia and the Northern Territory.
We support people of all ages, with different levels of vision, to achieve freedom and independence. Our life-changing Autism Assistance Dog program also improves comfort, safety and confidence for children living with autism and their families.
Our successful puppy development program provides pathways for Guide Dogs, Autism Assistance Dogs, and other Assistance Dogs. A recent redevelopment provides purpose-built facilities for Puppy Development, Training and Boarding in the heart of Adelaide.
About South Australia
Why Adelaide could be the perfect place for you.
Guide Dogs SA/NT is located in the heart of Adelaide, South Australia – consistently voted one of the world's most liveable cities! From the picturesque Adelaide Hills to our stunning coastline and world-class wine regions, the state boasts something for everyone.
If you're a Guide Dog Mobility Instructor who's looking for a lifestyle change, here are the top five reasons you should consider Adelaide for your next career move:
1. Adelaide is perfect for families.
With top educational institutions, convenient transport, an abundance of cultural and leisure activities, and the second-lowest cost of living of all Australian capital cities, Adelaide promises great value without compromising on quality of life.
2. Adelaide is perfect for adventurers.
The city is conveniently located on the southern coastline of Australia, with beaches, scenic hikes, and gorgeous weekend getaway destinations all within a 30-minute drive. It's also just a short flight to Melbourne, Sydney or Perth, and the gateway to some of Australia's most iconic outback regions.
More about Adelaide
Need more proof?
3. Adelaide is perfect for foodies.
With the Barossa, Clare Valley, Adelaide Hills and McLaren Vale wine regions all on your doorstep, world-class wine has never tasted so good. The city also boasts some of Australia's best restaurants, cafés, bars and markets, offering fresh locally-sourced produce to suit every appetite.
4. Adelaide is perfect for nature lovers.
With 760 hectares of Park Lands surrounding the CBD, Adelaide is the world's most beautiful 'city in a park'. This unique feature, combined with a long-standing commitment to conservation, biodiversity and sustainability, means Adelaide is a city that prides itself on being green.
And if you're keen to get cosy with Australian wildlife, you can meet some of the locals at Cleland Wildlife Park or experience kangaroos, koalas, penguins and more in their natural habitat on Kangaroo Island.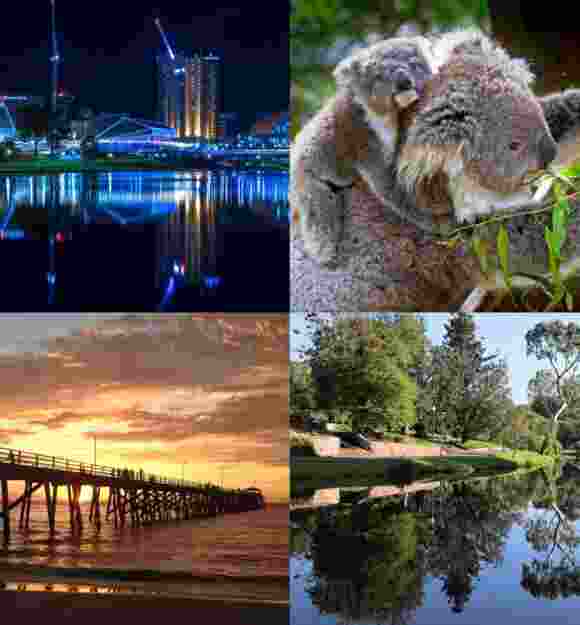 5. Adelaide is perfect for newcomers.
The city strikes just the right balance between bustling and relaxed, with residents earning themselves a reputation for being warm, friendly and inclusive. Adelaide welcomes people from all over the world to join our diverse community.
Why we love Adelaide
Our team says:
Adelaide is a great place to live and work, nestled between scenic hills and stunning beaches. The Barossa wine region is just a short drive, perfect for weekend getaways and a glass of shiraz. Where else could I live lakeside, with gorgeous views from my living room, just a stone's throw from the beach?
— Susan, Guide Dog Mobility Instructor (UK)
I chose to relocate from San Francisco to Adelaide for the amazing quality of life on offer. It's convenient and affordable but with the benefits of a big city, including some of the world's best beaches, hikes, wineries and restaurants at your doorstep.
— Lisa, Guide Dog Mobility Instructor (USA)