News
Guide Dogs collaborating with SAPOL and Adelaide Fringe for Human Guide Training.
Guide Dogs SA/NT has been busy running Human Guide Training for corporate groups including The Adelaide Fringe and the South Australian Police (Sapol Road Safety School).
Human Guide Training is learning how to confidently and safely guide someone with low vision or blindness. Training these groups will help fill our community with more people able to correctly and safely offer assistance if needed. (Note, the first rule is to offer assistance – you should never assume or grab someone to guide them without asking).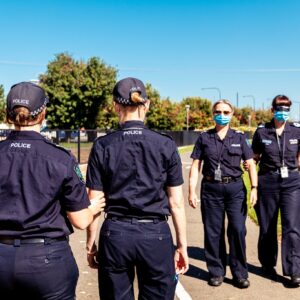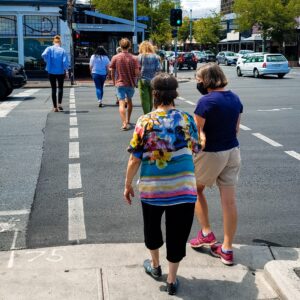 Both the Adelaide Fringe and SAPOL groups took on the challenge with a great attitude and learned extremely valuable skills that will make our community more inclusive and accessible for all.
Guide Dogs spoke to SAPOL participants David, Veronica and Merilyn to ask how they found the training. David commented on the experience saying "it was harder than I thought it was going to be. Honestly, I just thought it was going to be walking and following, but there was a lot more to it using your voice to communicate".
Human guide team Veronica and Merrilyn mutually agreed they had to instantly put trust in each other. Merilyn said, "the training was awesome. The knowledge was imparted, and we learnt some valuable tips". Veronica also mentioned it was thought provoking as someone with low vision or blindness "can't just take that blindfold off."