What are Low Vision Services?
We provide all kinds of insights and guidance.
If you're living with low vision or blindness, our team of Low Vision Specialists can offer assessments, support and advice to help you develop skills for living independently and achieving your goals.
Depending on your individual needs, our Low Vision Specialists can:
Provide education for you, your family, and friends: with general insights and information about eye conditions and techniques to maximise your remaining functional vision.
Conduct functional vision assessments: for people of all ages, including children who are pre-verbal, to establish a better understanding of a person's level of functional vision and deliver more appropriate care. Vision assessments can include visual acuities, visual fields, contrast sensitivity, colour vision, binocular vision, and ocular movements.
Make various recommendations based on assessments: to support your other allied health practitioners in their delivery of services or care.
Advise you on appropriate visual aids: including optical and electronic magnification to assist with reading, writing, or working on computer screens.
Guide you on focal and overhead lighting or glare-related issues: particularly in relation to lighting at your home, school, or work.
Provide training to improve your functional vision: including techniques such as 'eccentric viewing training', which can be useful in minimising the effects of blind spots or blurred vision.
Who can benefit from Low Vision Services?
Available to all.
Our Low Vision Services are available to people of all ages, with different levels of vision loss. This includes:
People who have experienced a recent change in their vision
People living with long-term low vision or blindness
Children and young adults with low vision or blindness who are working towards their developmental goals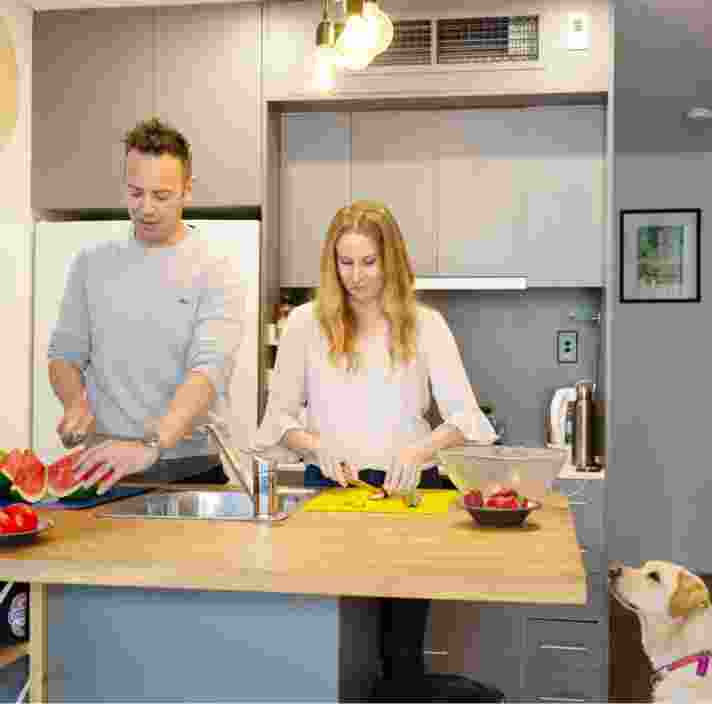 We're equipped to help
Supporting your independence.
Through our Low Vision Services, we can provide recommendations on a range of assistive technology and adaptive aids to support your independence at home and in the community.
Recommended equipment may include:
magnifiers
large print and tactile daily living aids
talking clocks and watches
large print playing cards
needle threaders
liquid level indicators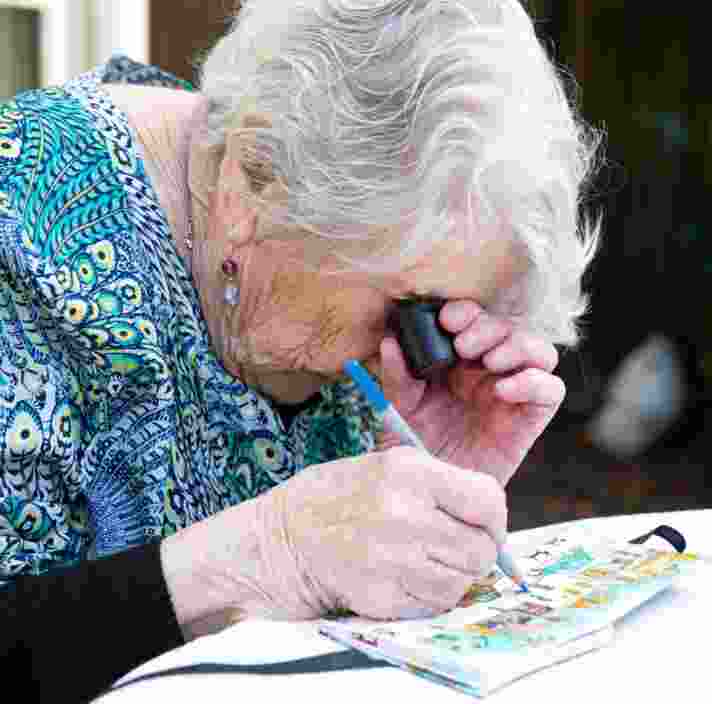 Access other support
Enhance your wellbeing.
We offer a full range of specialist support to enhance your independence and wellbeing. In addition to Low Vision Services, you may benefit from:
Adult Mobility: Develop skills to get around your home and community safely and with confidence, at every stage of life.
Guide Dog Mobility: Partner with a Guide Dog and participate in Guide Dog Mobility training to become more confident moving through life.
Children's Services: Whatever milestones your child or teen wants to achieve so they can feel happy and confident, our vision specialists can offer training, encouragement and support.
Occupational Therapy: Work with Occupational Therapists to identify personal goals and learn practical skills to achieve them. These can include cooking, caring for your family, living independently at home, and managing your own financial transactions.
Neurological Vision Service: If you've experienced a change in vision through accident or injury to the brain, explore new skills for new life circumstances with our Neurological Vision Service. Maximise your remaining vision, learn to move through different environments and communicate with people in the community.
Assistive Technology: Access Assistive Technology training to make life easier. Whether it's your smartphone or a specific aid like GPS devices, improve your confidence with technology that suits your needs.
Leisure & Lifestyle Services: Connect with others, make new friends, access peer support groups and socialise with the community through our Leisure & Lifestyle Services.
Funding options
Financial assistance may be available.
You may be eligible for financial support through the National Disability Insurance Scheme (NDIS) or My Aged Care, meaning the costs of your support could be covered.
We can also help you explore alternative funding pathways. For more information about funding support, contact our Client Services team on 1800 757 738 or email support@guidedogs.org.au.
Make an enquiry
Contact us.
For more information on accessing support, training programs, or to start improving or regaining your independence, please contact our Client Services team:
We welcome referrals from any health professional, carer, family member or friend. Please ensure you have the consent of the person you would like to refer before requesting a service on their behalf.
Request a service
Start the journey towards greater independence.