Skills to live the way you want
To keep you moving with confidence.
Regardless of your age or level of vision, it's important to be able to move safely and independently through the world.
Whether you've experienced long-term low vision or blindness, a recent change in vision, or you're gradually losing sight, Adult Mobility training offers everyday skills to keep you moving with confidence.
Adult Mobility training can support you to:
Get around your home and community safely
Navigate through both familiar and new environments
Catch public transport
Use assistive technology to increase your independence
Keep doing the things you love, like hobbies or activities
Connect with other people in your community
Increase your confidence and independence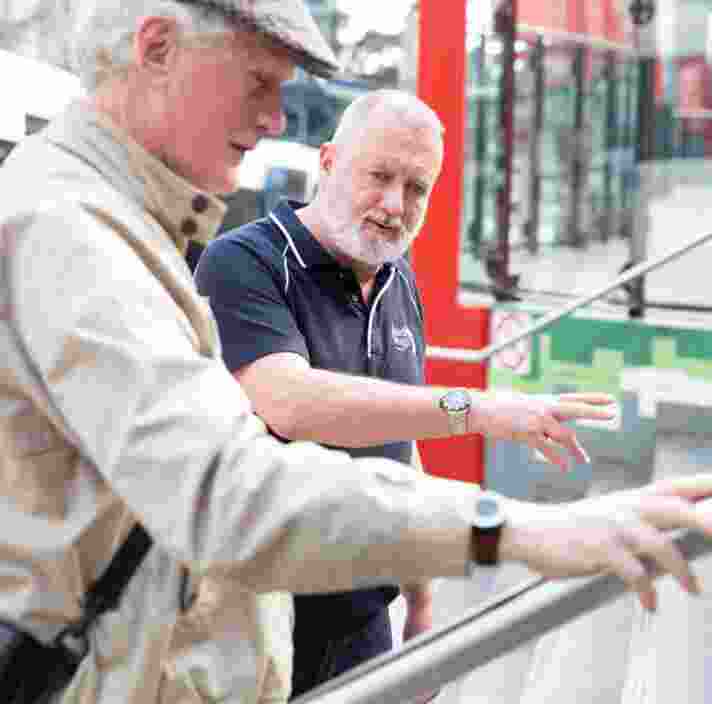 Your goals are our goals
Programs uniquely tailored to you.
Every training program is flexible and uniquely tailored to you.
Whatever your ultimate destination – whether it's learning the skills to travel to and from work, pick the kids up from school, or simply stroll out to check the mail every morning – Adult Mobility instructors can work with you to develop the skills so you can go where you want, when you want.
Simply put, you'll learn to map out and understand where you've come from, where you plan to go, and the safest, easiest way to get there.
Each practical technique is carefully selected to keep you going towards your personal goals, both long-term and short-term.
Support for every step of your journey
Refresh your skills or learn something new.
Adult Mobility training is valuable for anyone, at any stage of life. Regardless of your age or experience, we can be there to support you in every step of your training journey. We also offer tailored Children's Mobility services for people living with low vision or blindness who are under 18 years of age, to help you achieve your unique goals.
We're always available if you need to refresh your skills or learn new mobility techniques to find your way with confidence; if your goals change over time, we adapt our support to suit your needs.
Training can range from one session to several weeks of intensive classes. Depending on the specific skills you hope to learn, you might receive training at home, learn alongside family members or co-workers, or get out and about to apply your training in the community.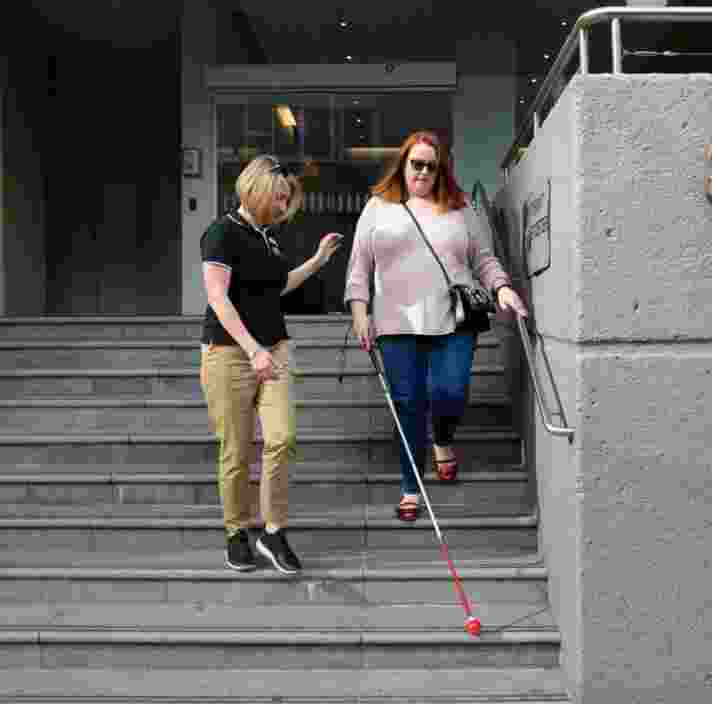 Access other support
Enhance your wellbeing.
In addition to Adult Mobility training, you may benefit from:
Make an enquiry
Contact us.
For more information on accessing support, training programs, or to start improving or regaining your independence, please contact our Client Services team:
We welcome referrals from any health professional, carer, family member or friend. Please ensure you have the consent of the person you would like to refer before requesting a service on their behalf.
Funding options
Financial assistance may be available.
You may be eligible for funding support through the National Disability Insurance Scheme (NDIS) or My Aged Care, meaning the costs of your support could be covered.
We can also help you explore alternative funding pathways. For more information about funding support, contact our Client Services team on 1800 757 738 or email support@guidedogs.org.au.
Request a service
Start the journey towards greater independence.