Partnering with a Guide Dog
Companionship and greater independence.
Walk safely, confidently and independently with a Guide Dog by your side.
A Guide Dog is an assistance dog, specially trained to support people who are blind or have low vision to navigate their world.
Guide Dogs will locate destinations, recognise obstacles and safely guide their handlers around them. Guide Dogs are trained to support people to navigate all kinds of environments, from busy city centres to quiet suburban neighbourhoods.
Our Guide Dog Mobility Services are entirely designed to achieve your goals. Each Guide Dog is carefully matched with your personal characteristics and specific needs, creating a unique and meaningful partnership.
You will receive ongoing training and advice from a Guide Dog Mobility Instructor, who will support your changing needs throughout the working life of your Guide Dog.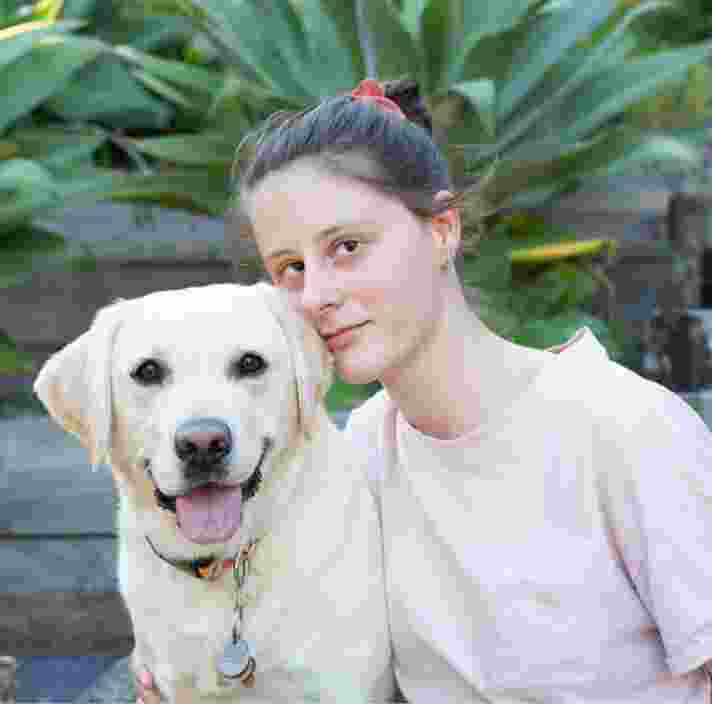 More than mobility
Maximise your confidence.
If you choose to partner with a Guide Dog, you'll discover a true connection that offers so much more than improved mobility.
Through Guide Dog Mobility training you can:
Move around your community safely with a Guide Dog; go to the shops, travel to work, attend restaurants, sports events or movies, and more.
Maximise your independence and confidence when moving through busy public places.
Increase your opportunities to be social and spend more time with others.
Travel to your favourite or most frequently visited destinations more efficiently.
Enjoy a greater sense of security, both at home and in the community.
Develop a genuine bond and enjoy true companionship.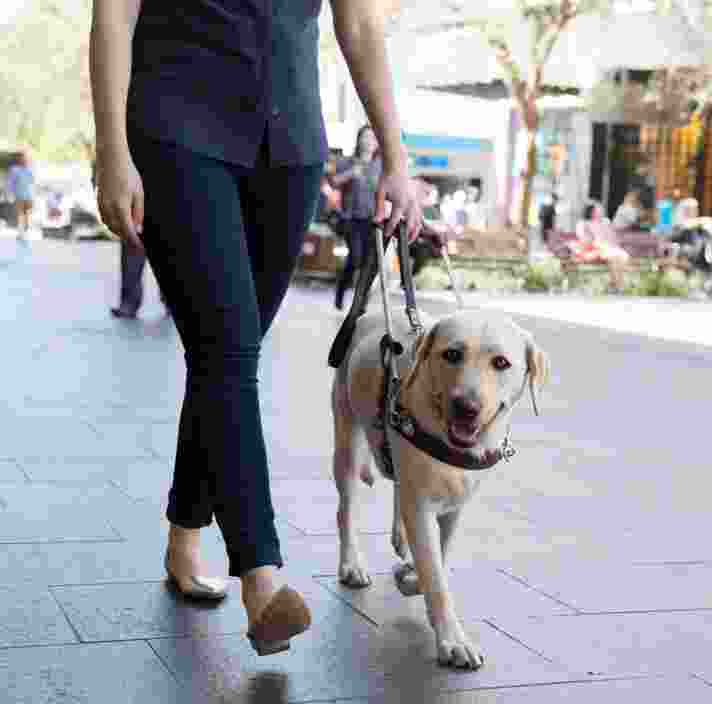 Would a Guide Dog benefit me?
As long as you are active, age is not a barrier.
Anyone who has significant low vision or is blind and is experiencing difficulty moving safely and independently through the community can benefit from a Guide Dog.
You do not have to be totally blind to be eligible for a Guide Dog. In fact, the majority of our Guide Dog handlers have varying degrees of vision.
First, our team of specialist Guide Dog Mobility Instructors perform detailed assessments to identify whether a Guide Dog partnership is right for you.
Then, we learn a little more about your lifestyle, preferred walking speed, and how frequently you travel and where to, to find a Guide Dog that perfectly meets your needs. This relationship is the foundation for years of improved independence, safety and confidence.
We train post-school-aged and university students, parents with young families, and people who are full-time, part-time, or not in the workforce. As long as you are active, age is not a barrier.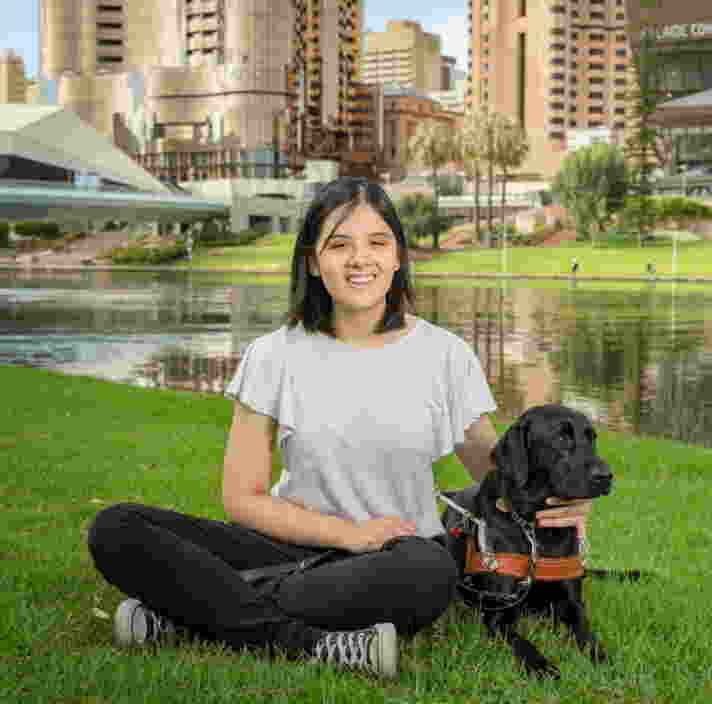 Guide Dogs can go anywhere
Understanding access rights.
Legally, Guide Dogs can go almost everywhere their handler goes.
Including:
All public transport, such as buses, taxis, trains and planes
Restaurants
Shopping centres
Cinemas
The exceptions are hospital operating theatres, intensive care and burns units, commercial kitchens and zoos.
Also, Guide Dog handlers must inform all National Parks that they are coming with a Guide Dog.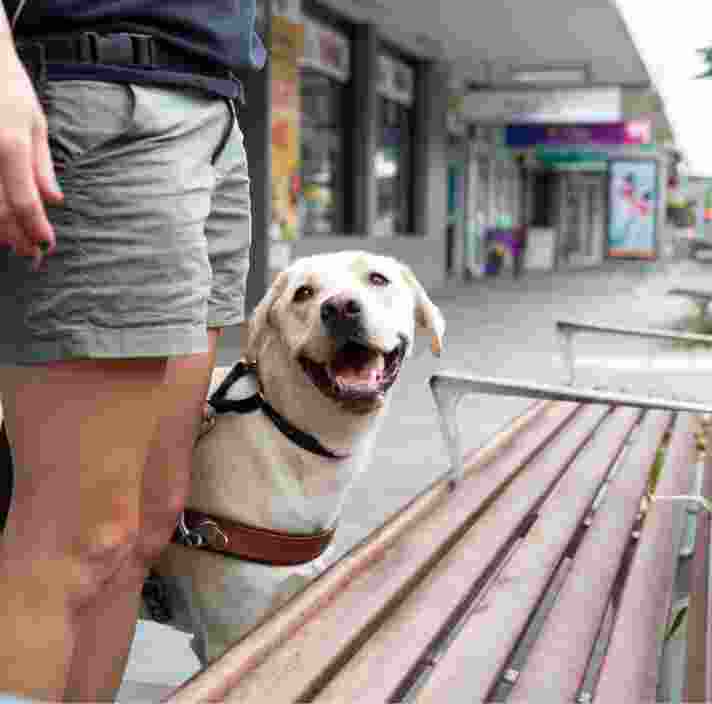 Access other support
Enhance your wellbeing.
You may also benefit from:
Adult Mobility: Develop skills to get around your home and community safely and with confidence, at every stage of life.
Children's Services: Whatever milestones your child or teen wants to achieve so they can feel happy and confident, our vision specialists can offer training, encouragement and support.
Low Vision Services: Receive specialist assessments, support and advice to ensure your lifestyle and environment are optimised to suit your level of vision.
Occupational Therapy: Work with Occupational Therapists to identify personal goals and learn practical skills to achieve them. These can include cooking, caring for your family, living independently, and managing your own financial transactions.
Neurological Vision Service: If you've experienced a change in vision through accident or injury to the brain, explore new skills for new life circumstances with our Neurological Vision Service. Maximise your remaining vision, learn to move through different environments and communicate with people in the community.
Assistive Technology: Access Assistive Technology training to make life easier. Whether it's your smartphone or a specific aid like GPS devices, improve your confidence with technology that suits your needs.
Leisure & Lifestyle Services: Connect with others, make new friends, access peer support groups and socialise with the community through our Leisure & Lifestyle Services.
Applying for a Guide Dog
Contact us.
If you would like to find out more information about applying for a Guide Dog, please contact our Client Services team:
You can either refer yourself for Guide Dog Mobility Services, or be referred by a GP or allied health professional.
We welcome all enquiries from health professionals, family members and individuals.
Funding options
Financial assistance may be available.
You may be eligible for funding support through the National Disability Insurance Scheme (NDIS), meaning the costs of your support could be covered.
We can also help you explore alternative funding pathways.
For more information about funding support, please contact our Client Services team:
Request a service
Start the journey towards greater independence.